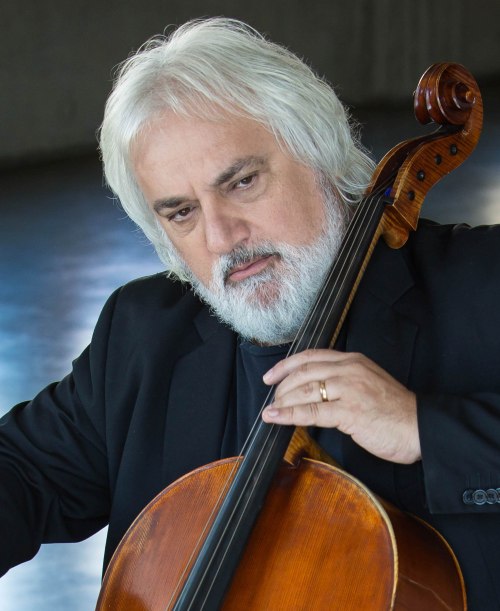 Andrew Shulman
principal cello
Andrew Shulman, principal cello with LACO and faculty at USC, was the first British winner of the Piatigorsky Award and was made an Honorary RCM by The Queen Mother.
He has performed concertos with the Philharmonia, ASMF, CBSO, BBC Scottish, Utah and Singapore Symphonies, and Los Angeles and Royal Liverpool Philharmonics. Recitals include Wigmore Hall, the Royal Palace, Stockholm and Buckingham Palace, London, and he has performed Strauss's Don Quixote with Rattle in London and Salonen at the Hollywood Bowl. He is a regular guest at the Aspen, Aldeburgh, Bath, Edinburgh, Mainly Mozart and La Jolla festivals, collaborating with Kahane, Hadelich, Steinhardt, Harrell and Thibaudet.
LA Times declares that his playing is "always eloquent and passionate," The Times praises him for "fastidious poetry of phrase and technique," and the Salt Lake Tribune writes, "[Shulman] gave a fabulously nuanced and impassioned performance."
As conductor, Andrew has performed in the UK, Europe and Scandinavia. LA Opening Nights described his US conducting debut as "a stunning performance" with the LA Chamber Orchestra. He has also conducted successful productions of Mozart's Figaro and Cosi at the Theater Royal.
Solo and chamber recordings span 35 CDs, including the Britten Quartet's complete discography, Vivaldi concertos for Virgin and Janacek for EMI, where he was an exclusive artist.
Andrew studied with Dickson, Pleeth and du Pré. He was principal of the Philharmonia, the ASMF and the LA Phil, and is one of the most sought-after cellists in TV and movies, with thousands of credits. Last season he premiered a concerto by Broughton and a new work by Zigman, and appeared at the La Jolla 'Summerfest', the Green Chamber Festival in Sonoma and the Piatigorsky Festival in LA.