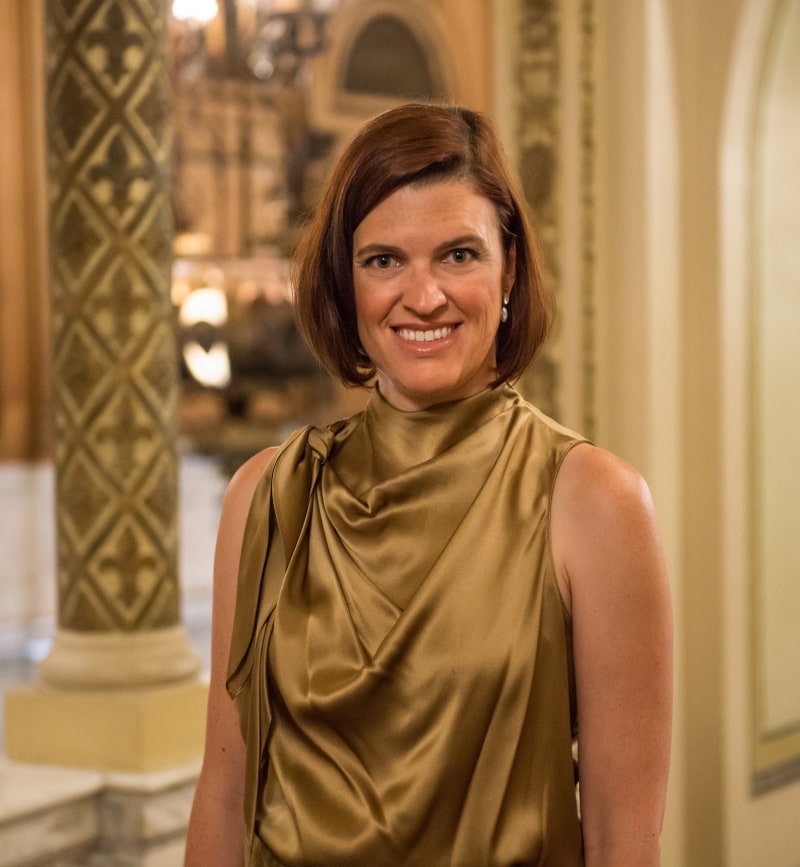 Lacey Huszcza
Associate Executive Director
Lacey Huszcza was appointed interim managing director of the Los Angeles Chamber Orchestra by the LACO Board of Directors in February 2015. A successful ten-year veteran of LACO with a proven track record of excellence, innovation and leadership, Lacey has served in almost every department of the Orchestra's administration – development, marketing, special events, production, operations and artistic administration – gaining an unusually rich and varied range of experience in arts management.
In her most recent position as LACO director of advancement, Lacey spearheaded the Orchestra's current strategic plan, led the five-person development team responsible for raising over $3 Million per year, and oversaw all LACO special events, including 2014's Strad Fest LA and 2015's Under a Chinese Moon, the two highest-ever grossing fundraisers in LACO history. Play Me I'm Yours, the high-profile three-week community project in which LACO placed 30 decorated pianos in communities around Los Angeles County for everyone to play; LACO's successful Campus to Concert Hall initiative for college students; and pioneering social media efforts that made LACO the first US orchestra ever to be on Twitter are further testaments to Lacey's vision, creativity, organizational skill and boundless energy.
Throughout her ten years with LACO, Lacey has worked closely with the board of directors, music director, and Orchestra musicians to plan future season concert and development activities; collaborated effectively with the marketing and public relation team; refined human resources policies; prepared budgets for artistic, education, and concert programming; negotiated artist and velnue contracts; and ensured the smooth operation of the Orchestra's fundraising activities inspiring the trust and admiration of major donors and subscribers.
In December 2010, Lacey co-founded Ask the Musicians, a series of online events with an international reach that connects individuals with musicians through Twitter and provides participants with a 140-character backstage pass into the world of classical music. The initial project engaged more than 60 conductors from around the world with hundreds of participants. Additional events have included Ask a Composer, Ask the Strings and Ask a Vocalist.
Lacey is an active member of the Association of California Symphony Orchestras, the League of American Orchestras, and the Los Angeles chapter of the Association of Fundraising Professionals. She is a sought-after seminar presenter and leads conference sessions regularly for arts organizations such as ACSO, Arts Reach and Emerging Arts Leaders Los Angeles. Lacey serves as the President of the Board of Directors for MBA Women Los Angeles, a professional chapter of the National Association of Women MBAs. Under her guidance, membership has increased, events have been streamlined, and the chapter has completed a phase of re-naming and branding. Lacey is a member of Beta Gamma Sigma, the international honor society for graduates of business programs accredited by the Association to Advance Collegiate Schools of Business (AACSB).
A longtime music enthusiast, Lacey was awarded two Bachelor of Arts degrees in Music and Communications from the University of Colorado, Boulder, where she studied horn with Michael Thornton. She earned a Masters of Business Administration degree with an emphasis in Entrepreneurship from Pepperdine University.
Lacey lives in Whittier, CA with husband Daniel Stott, an LA-based freelance trumpet player, who can also often be spotted at LACO concerts turning pages for Jeffrey Kahane and other guest soloists.