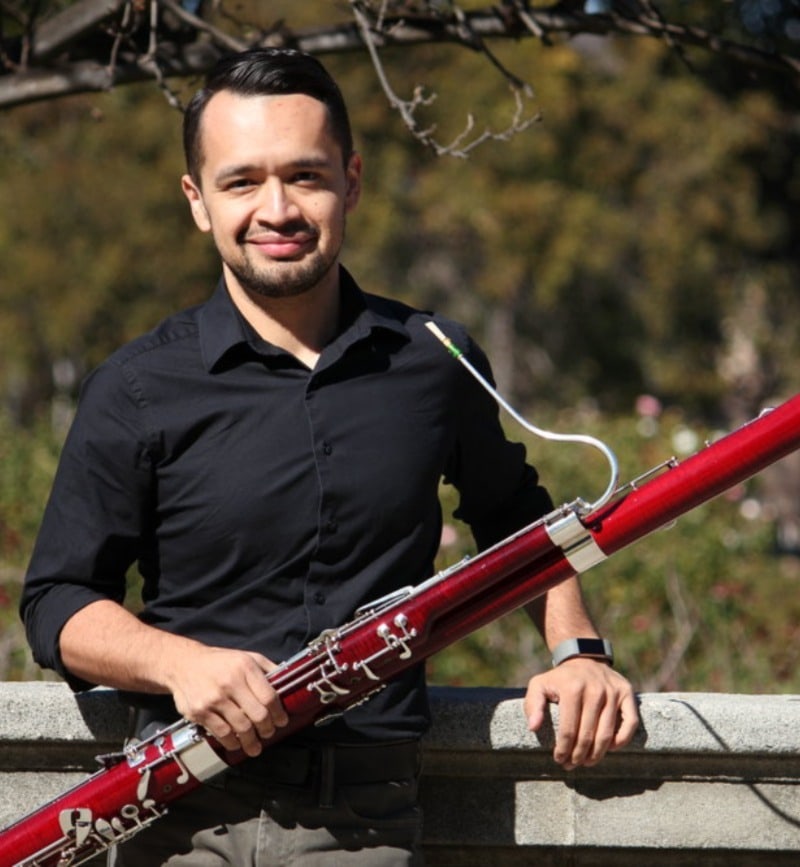 Alexis Rosales Garcia
Alex Rosales Garcia, Mexican-born and Bay Area raised, is a bassoonist living in Los Angeles, California. An active musician in California and Nevada, Alex has performed with various groups including the Las Vegas Philharmonic, Los Angeles Philharmonic, Los Angeles Master Chorale, The Royal Ballet, Hollywood Chamber Orchestra, California Symphony and WildUp.
While in college, Alex held positions of Principal Bassoon with the Debut Orchestra from 2013 to 2016 and was acting Principal Bassoon with Southeast Symphony. In 2015, Alex won the position of Second Bassoon with Las Vegas Philharmonic. Alex has played under notable conductors including John Williams, JoAnn Falletta, Gustavo Dudamel, Mirga Gražinytė-Tyla, Anthony Parnthner, Bramwell Tovey and Carl St. Clair. Aside from orchestral performances, he can also be heard in various soundtracks for movies and shows with FOX, Sony and Warner Bros. He has also shared the stage at the Hollywood Bowl with Omara Portuondo and Venezuelan salsa singer Oscar D'Leon.
Along with the other members of his sextet, Cardinal Winds, Alex was awarded the Grand Prize at the 2015 Plowman Chamber Music Competition held in Columbia, Missouri. That same year they were also named semi-finalists in the Fischoff Chamber Competition and finalists at the Coleman Chamber Competition. The group was also honored with a Max H. Gluck fellowship and performed various community engagement concerts on a weekly basis within underserved communities in greater Los Angeles. Alex also co-founded Together in Music (TIM)—a Latin-american chamber music ensemble dedicated to sending non-perishable food and medicine donations to the neediest communities in Venezuela. TIM has since received an award from the Center for Cultural Innovation and an mPower Grant from the Sphinx Organization for its work in helping other communities. In 2020, Alex joined Syrinx Quintet—offering bold and innovative repertoire to the Southern California chamber music scene.
A passionate educator, Alex is also a teaching artists for the Los Angeles Philharmonic's 'El Sistema' program – YOLA (Youth Orchestra Los Angeles) He was the bassoon instructor, musicianship teacher and chamber music coach at the EXPO site (South Los Angeles) for 5 years and Double Reed specialist at the HOLA site (Rampart District) from 2017-2020. Alex is the bassoon professor at the University of Nevada, Las Vegas and beginning 2022 the bassoon professor at California State University Long Beach. Alex also maintains a vibrant and active bassoon studio and is proud of his many students who have won positions in local youth orchestras and obtained full-ride scholarships to various music schools.
Alex received a double Bachelor in Political Science: American Government and Bachelor of Music: Bassoon Performance degree from the University of California, Irvine. While at UC Irvine, Alex studied with Pacific Symphony bassoonist Elliott Moreau. He received his Master of Music in Bassoon Performance at the University of Southern California's Flora L. Thornton School of Music under the tutelage of Los Angeles Philharmonic bassoonist, Shawn Mouser.
In his free time, Alex enjoys reading, drinking whiskey, dancing salsa, training Brazilian Jiu Jitsu and binge-watching INSECURE.